Capita Neo Slasher Split Snowboard - 161
Open media in modal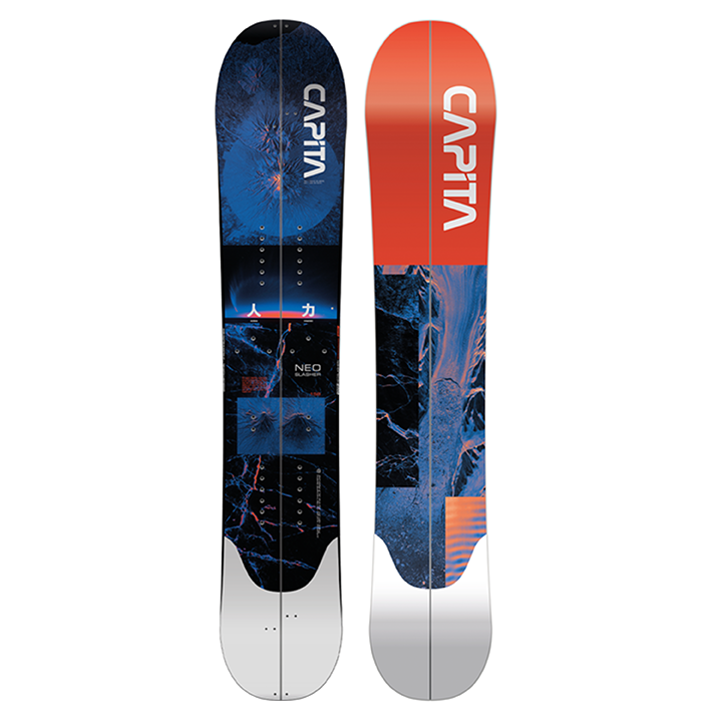 Capita Neo Slasher Split Snowboard - 161
Capita 2023 Neo Slasher Split Snowboard - 161
Rocker Type
Alpine V1 Profile – The ALPINE V1 Profile design features mid-body camber with a flat tail and a reverse cambered nose. This allows for tons of pop and stability on hard pack while increasing float and landing power, improving the rider's performance in deep snow. The camber runs longer in the tail—providing extra power for the ascent or for larger riders drawn to a dedicated wide series.

Flex
Flex Rating – 7 (1 Soft - 10 Stiff)
Shape
Radical Taper – Engineered for deep powder but still versatile around the mountain, this RADIAL sidecut is complemented by a TAPERED TAIL. This narrower tail section naturally sinks in the powder while the wider nose section floats above the snow line. The result is less work and more fun as the board surfs on one smooth continual arc.
Core
Ascend 2 Split Core™ – Premium weight-graded Poplar aligned with Paulownia and an ABS centerline resulting in a high-end split specific core. This core retains the primary poppiness of Poplar while remaining lightweight due to pressure-bonded dual-species wood core strips.
Laminates
Triax/Triax Holysheet™ – The HOLYSHEET™ fiberglass configuration features fiber weaves with a high tensile strength and low modulus of elasticity. With a higher roving count in the same weight of glass, you can have a stronger and more responsive board without adding extra weight. Triaxial fiberglass is placed on both the top and bottom of the core providing maximum strength, durability and performance.
Amplitech™ V-Tech Amplifier – Amplitex™ is a next-generation natural flax fiber woven with carbon strands that is featured in high-end snowboard constructions. This fusion tape brings the best of two worlds: the reactive energy of carbon and the lightweight and dampening aspects of flax. The two fibers are highly compatible since they have similar properties regarding thermal expansion and failure strain, creating a uniformly flexing reinforcement that's light, snappy and durable all in one.
Magic Bean Resin – This advanced resin system has a bio-content of 60% renewable, agricultural raw material and is produced with no waste or greenhouse emissions. In production, it has a low-temperature requirement with a high yield output. Poppy, powerful, and extremely durable, MAGIC BEAN™ resin yields much stronger and more rigid qualities allowing a decrease in the wood core thickness. This means you get a lighter board while achieving higher energy return.
Base
Powder Drive™ Base – Dynamic and durable, easy to maintain and reliable, this base material is electric through the trees and fast over the flats. Featuring attributes of both sintered and extruded base material the POWDER DRIVE™ base was exclusively formulated for the extra-wide chassis of the Spring Break Powder Division and were designed with the powder lifestyle in mind.
Edges
360 Degree HRC48 Steel Edges
Topsheet
PLT™ Topsheet Technology – PLT™ technology is exclusive to CAPiTA MFG and magically bonds the topsheet to an already pressed snowboard.
DuraTail™ V2 Die-cut Topsheet
Graphics
Multitech™ Level 6 DeepSpace™ Silkscreen with Metallic Underlay – The DEEPSPACE™ Design Theory takes advantage of the thickness of a transparent topsheet. Strategically layering ink on multiple levels from the top and the bottom imbues graphics with a sense of life through depth.
Additional Features
Union Clips and Hooks – Reengineered Union CNC aluminum clips.
Binding Compatibility
Stainless Steel 4 x 2 Inserts