Capita 2024 Super DOA Snowboard - Assorted Sizes
Open media in modal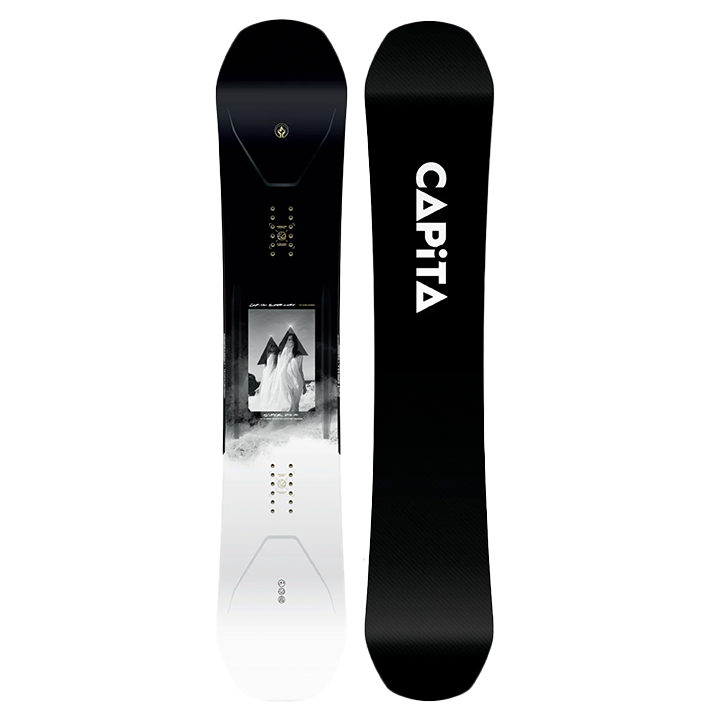 Capita 2024 Super DOA Snowboard - Assorted Sizes
Capita 2024 Super DOA Snowboard - 154
Bear witness to the technically supreme, supercharged, SUPER D.O.A. This game-changing super-snowboard has embraced the shaping and camber theory from one of the most successful and widely loved snowboards ever and amplified the construction for some serious fun.
Our RESORT V1 Profile boards take full advantage of the benefits of traditional camber, zero camber, and reverse camber. This next generation design allows you to get the pop and response of a cambered board with all the predictability and easy turn initiation of zero camber or reverse camber shapes.

Flex
Flex Rating – 6 (1 Soft - 10 Stiff)
Shape
Blended Radial Sidecut – BLENDED RADIAL sidecuts feature a single radius arc through the midsection of the board combined with a custom designed blend zone at the contact points. Varying the length of these blend zones and tailoring them specifically for certain aspects of riding greatly improves a board's performance.
Core
3D Thermopolymer SuperCore™ – Extremely lightweight super-combo core of premium Poplar, Paulownia, Beech with recycled thermopolymer inlaid channels, for maximum durability, energy and pop.
Laminates
Supercarbon™ – Super wide carbon tape = twice the power and response of previous carbon additives.
Magic Bean Resin – This advanced resin system has a bio-content of 60% renewable, agricultural raw material and is produced with no waste or greenhouse emissions. In production, it has a low-temperature requirement with a high yield output. Poppy, powerful, and extremely durable, MAGIC BEAN™ resin yields much stronger and more rigid qualities allowing a decrease in the wood core thickness. This means you get a lighter board while achieving higher energy return.
Triax/Triax Holysheet™ – The HOLYSHEET™ fiberglass configuration features fiber weaves with a high tensile strength and low modulus of elasticity. With a higher roving count in the same weight of glass, you can have a stronger and more responsive board without adding extra weight. Triaxial fiberglass is placed on both the top and bottom of the core providing maximum strength, durability and performance.
Sidewalls
Fortress™ Kevlar Bound Sidewalls – With seven Transworld Good Wood Awards in six years for the D.O.A. series, it's clear that the performance and value of these boards are unmatched. FORTRESS™ KEVLAR BOUND SIDEWALLS are bonded by a Kevlar "S" wrap from the top of the sidewall to the underside of the core. This lightweight technology binds the sidewall and core material together like no other.
Base
Hyperdrive™ Base – Exclusively formulated, sintered, ultra-high molecular weight, ultra-high density polyethylene, custom engineered with special additives. Rated for the most depraved speed junkies only.
Moonshot Omni-Tune™ – Aftermarket performance stone grind structure straight from The Mothership, optimized for regular and switch riding.
Edges
360 Degree HRC48 Steel Edges
Topsheet
Megalite Skin™ Topsheet – Super thin yet durable matte lamina for 60% weight reduction over Capita's regular topsheets.
Graphics
Multitech™ Level 4 DeepSpace™ Silkscreen – The DEEPSPACE™ Design Theory takes advantage of the thickness of a transparent topsheet. Strategically layering ink on multiple levels from the top and the bottom imbues graphics with a sense of life through depth.
Binding Compatibility
Stainless Steel 2 x 4 Inserts