Flux 2024 XF Snowboard Bindings - Wood
Open media in modal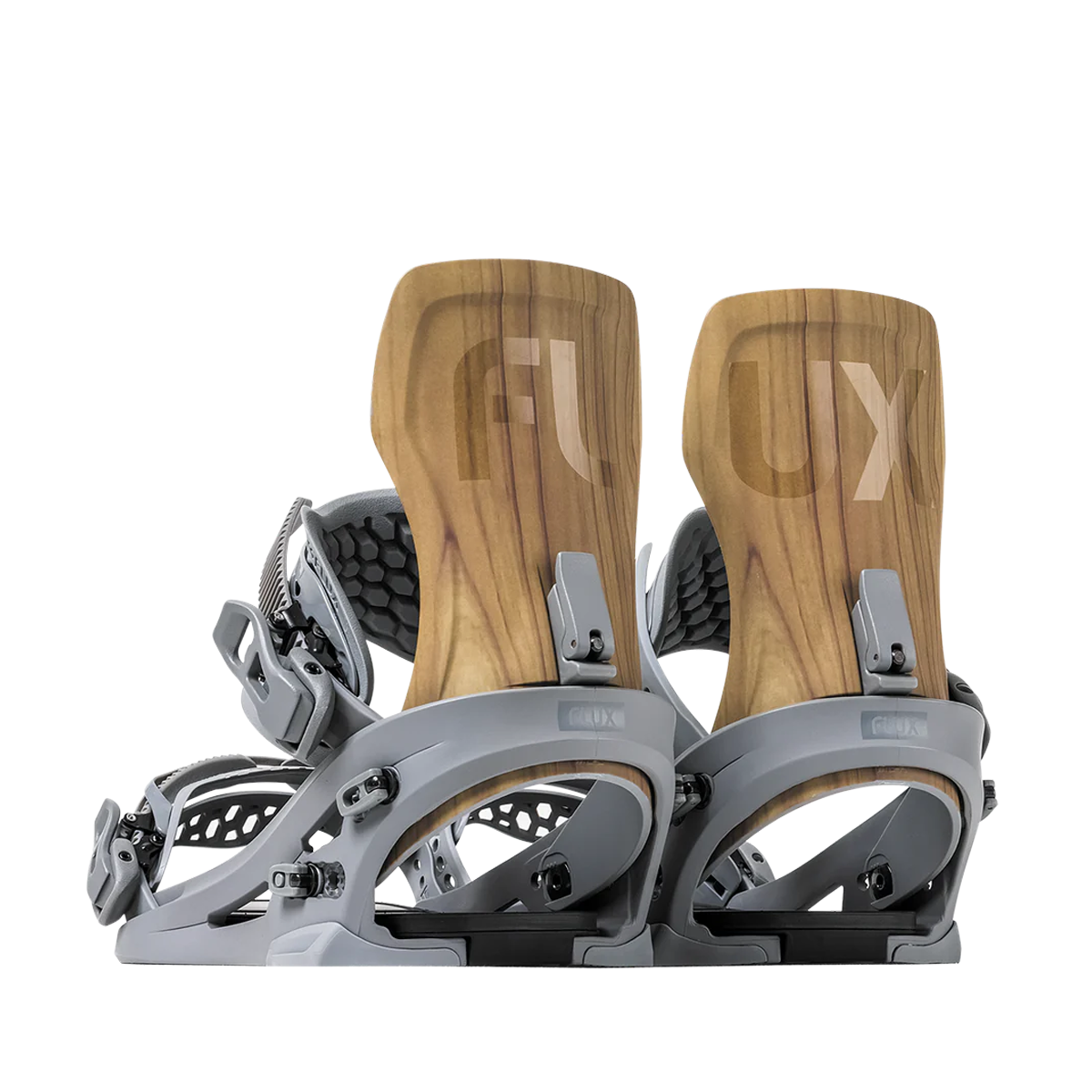 Open media in modal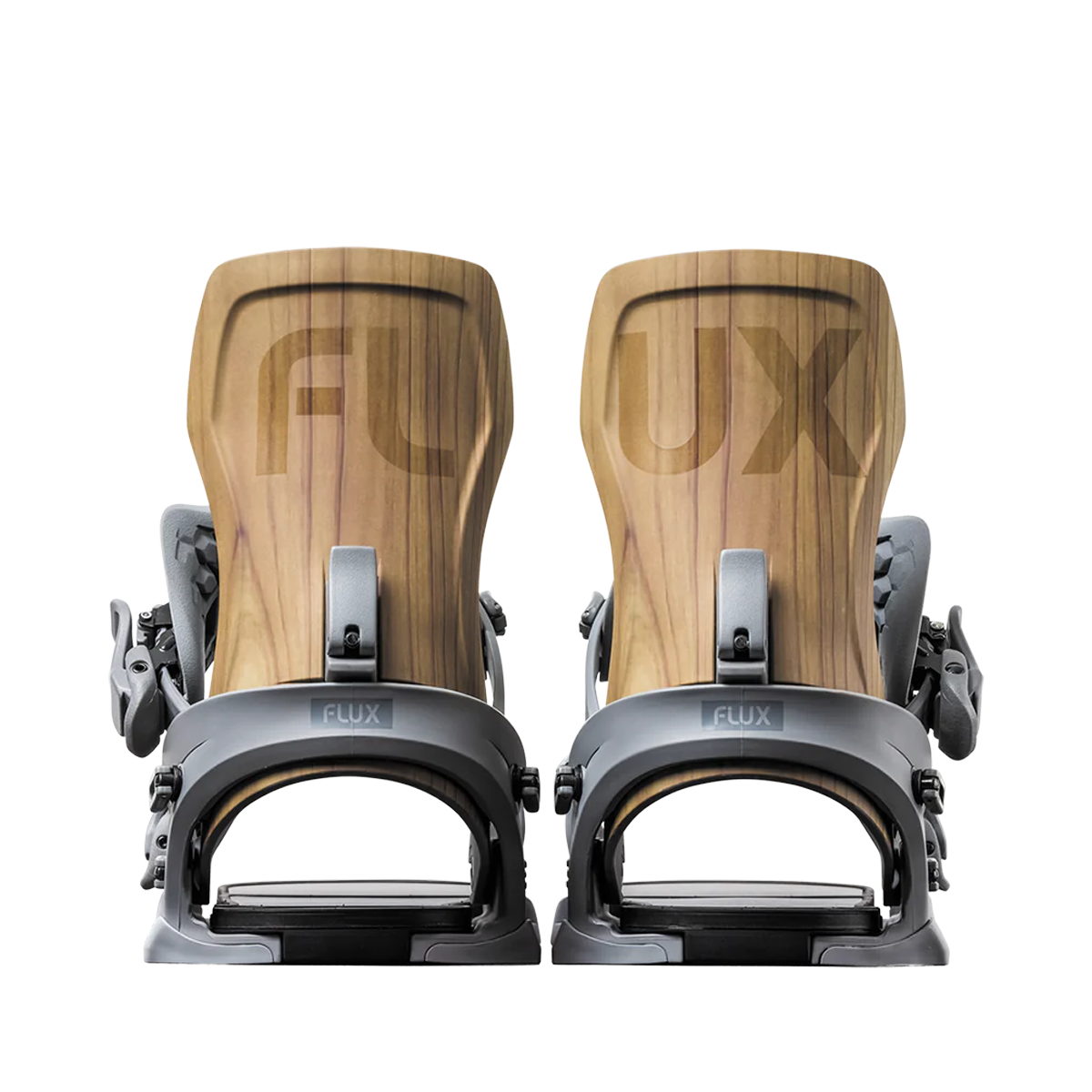 Flux 2024 XF Snowboard Bindings - Wood
Flux 2024 XF Snowboard Bindings - Wood
Explosive speed and power at your disposal.
The base plate has been completely redesigned to further improve response and provide greater ease of movement.
The base design emphasizes the efficiency of power transmission to the board, and a large stabilizer is used on the heel side.
By using a material with excellent repulsion, it is possible to transmit force to the board without escaping it while expanding the range of motion from side to side.
In addition, the XF-specific Boost FootOn+ is 4mm taller than a regular footbed, and by softening the center part, it creates a concave shape when you step on it, allowing for more powerful edging.
Retro-Mod Highback
The outside has a symmetrical shape with a classic look. The asymmetrical structure on the inside follows the movement of the boot while providing resilience, improving torsion control during landing.
Super Tough Nylon
Medium flex material suitable for all-round use from low speed to high speed, beginner to expert.
Redux Lean Adjuster
Lighter due to smaller size. Easily adjustable with one action.
Micro Adjuster
If you move it forward one memory, it will lean forward approximately 2.5 degrees. More detailed high back settings are possible.

Super Ultima Baseplate
A new generation standard of FLUX equipped with a stabilizer that converts power transmission into repulsive force in order to make the most of the board's bounce.
Performance Blend
Medium flex for most all-round use. Compatible with all riding scenes.
Boost FootOn +
Boost FootOn tuned specifically for XF. The center part is made of soft material, and when you step on it, it naturally takes on a concave shape, making it easier for the toe and heel to squeeze together. Of course, the surface is made of material that prevents snow from sticking.
Adjustable Toe & Heel Cushion
Movable cushion that allows adjustment of toe side and heel site to suit boot size and board width.
Responsive Stabilizer
A large stabilizer designed for the XF with emphasis on speed of reaction and power transmission. Using TPU material with high repulsion, it boasts high response performance while protecting the board.
Super Tough Nylon
Medium flex material suitable for all-round use from low speed to high speed, beginner to expert.
Waffle Strap
A two-layer structure with a waffle cushion that provides a comfortable hold and ease of movement that you'll forget you're wearing it, and a Power Strap that transmits power directly.
Beer Buckle
A newly designed ratchet buckle that securely tightens until the last tightening. Comes with a bottle opener function so you don't have to worry about toasting.
FTM VER.5.0
In order to increase power transmission, the center line is strong, and the upper and lower ends are made with a special Transfer strap that has increased flexibility and a better fit with boots.
L-Guide
Store the belt smoothly to avoid getting caught in the snow during toe-side turns.