Union 2024 Strata Snowboard Binding - Royal Blue
Open media in modal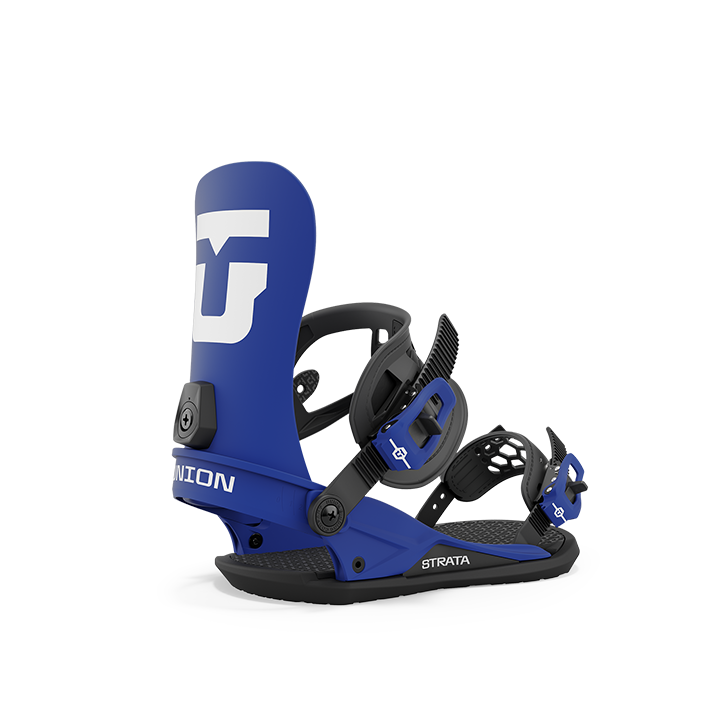 Open media in modal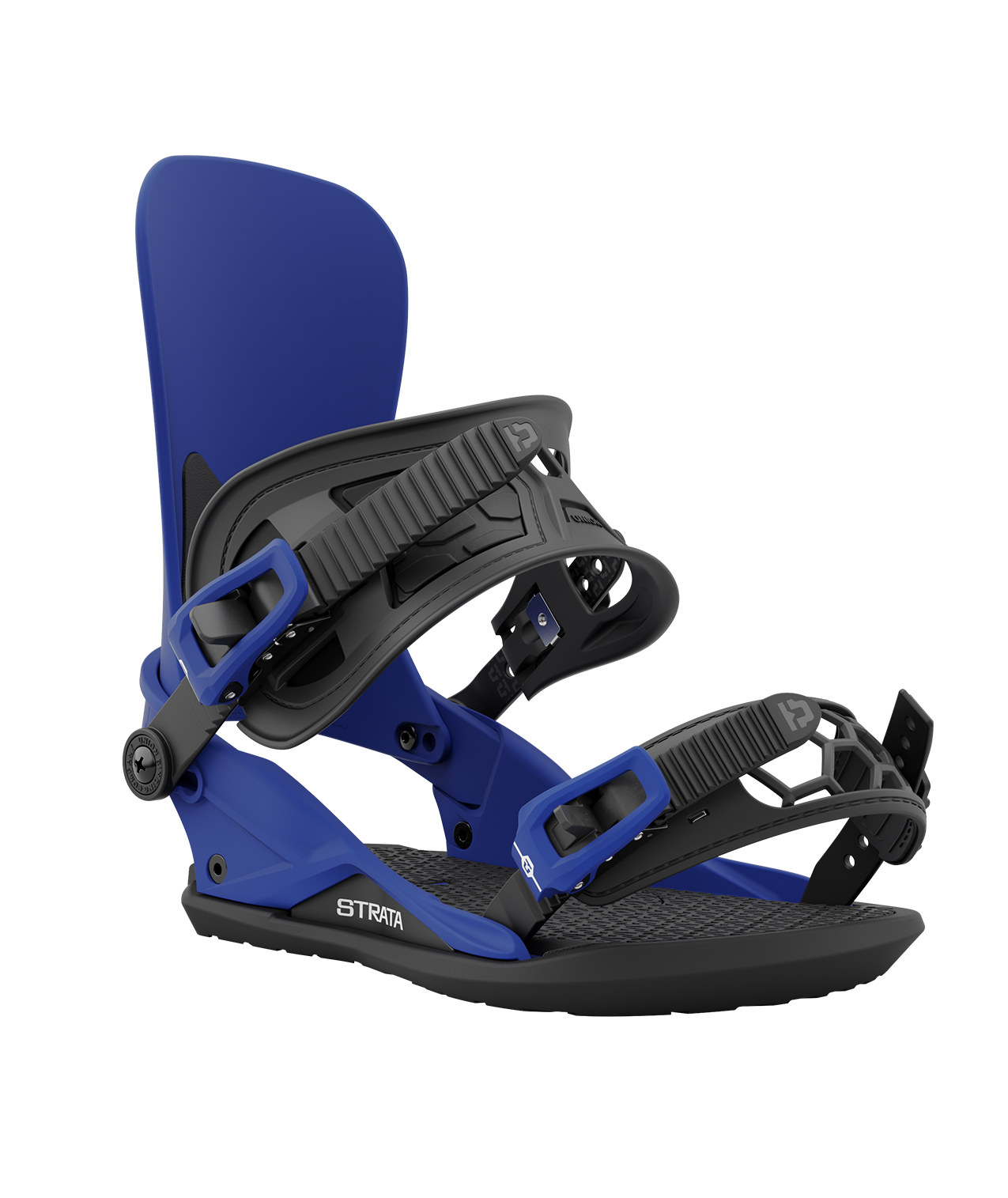 Open media in modal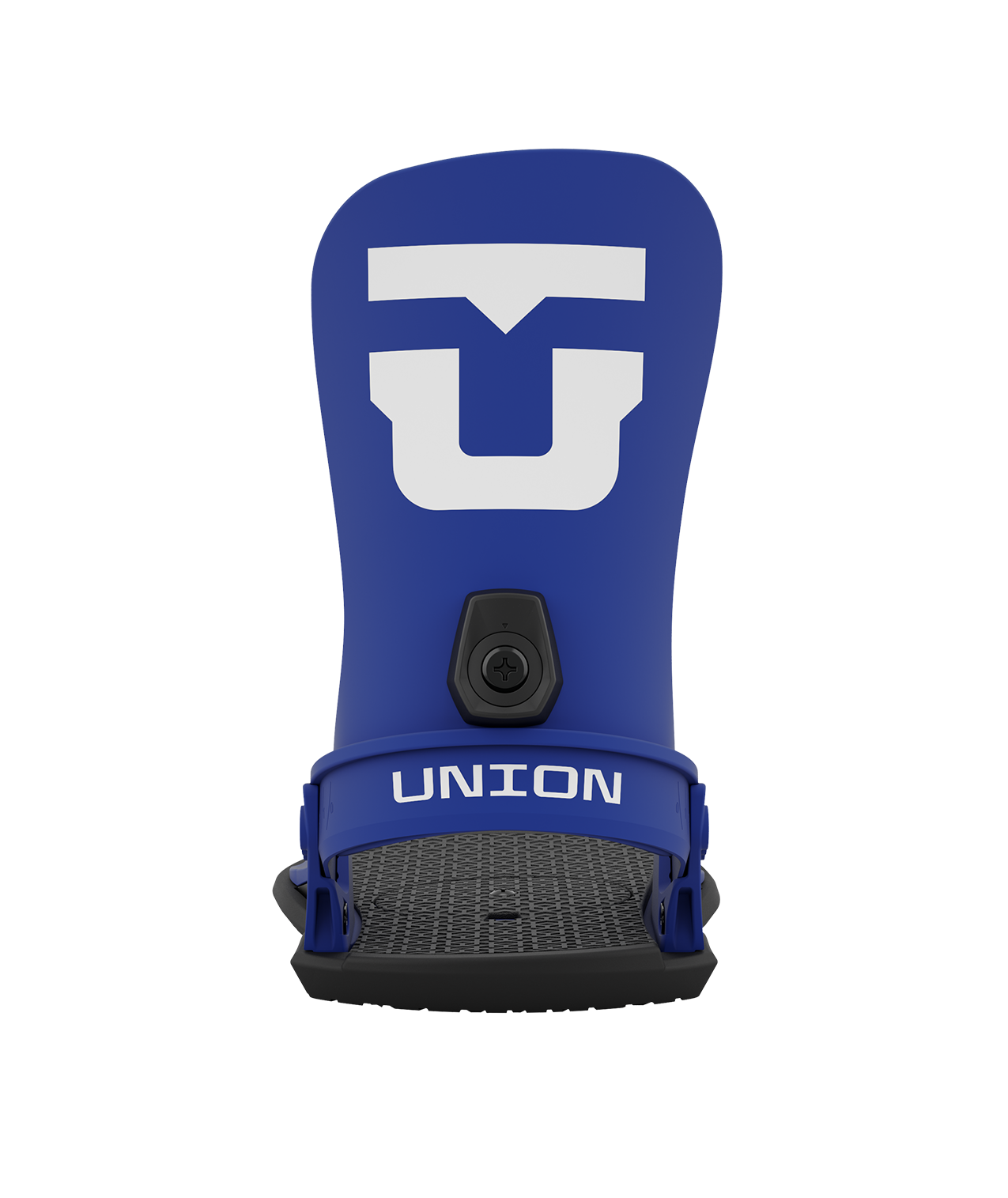 Open media in modal
Union 2024 Strata Snowboard Binding - Royal Blue
Union 2024 Strata Snowboard Binding - Royal Blue
The innovative Union Strata is an incredibly versatile freestyle fan-favorite, featuring layers of Thermoformed EVA, Duraflex ST Nylon and Fused Vaporlite combined to provide a damp and surfy feel that performs great in all conditions and terrain. With canted gas pedals and ultra-comfy Forma Lab Ankle straps, this year's Strata provides superior comfort and durability in a crazy lightweight package.
KEY FEATURES
OTE Fused Vaporlite Bushings - An "industry first" that sets new standards for how a snowboard binding should function and perform. This new material utilizes an injection molding process very similar to the way plastic parts are created, making an element that is more waterproof, durable, and precise than any other EVA material on the market.
Minimal Base Contact = True Board Flex - Union baseplates are designed to provide supreme strength while minimally interfering with your board's natural flex. Minimal board to binding contact means sweeter response, better board control, and improved durability.
HIGHBACK
Strata Duraflex ST Highback - The Strata Highback is light and asymmetrical, with a firmer flex on the outside for support and a softer flex on the inside so you can tweak it harder and lean into your turns with more power.
Classic FLAD (Forward Lean Adjuster) - Zero out your highback lean for mellow cruising or park laps, or crank it up a notch for those high speed assaults when you need extra leverage and board control. Easy adjustment allows you to customize your highback lean on the fly.
STRAPS
Forma Lab Ankle Strap - New and improved, the Forma Lab Ankle strap utilizes a minimalistic design for a lightweight and surfy feel that is highly durable and features strategically placed padding for increased comfort.
Tool-Free Ankle/Toe Strap Adjustments - No screwdrivers needed here. Simply flip the adjusters by hand to fine-tune your fit.
Aluminum Buckles - Lightweight, fast in, and fast out. Union aluminum is second to none.
BASEPLATE
Size-Proportionate Fiberglass Index - Bigger riders require stiffer bindings. Union proportionally increases the fiberglass content in each size of their bindings so that any rider who straps in will have perfect support.
Stage VI Duraflex ST Baseplate - Duraflex blended nylon is specifically designed for cold temperatures - offering unsurpassed levels of strength and longevity. A new era for nylon plastic components.
Extruded 3D Aluminum Heelcups - A new process removes as much excess material as possible in the heelcup to reduce weight while maintaining tried and true strength. Union heelcups undergo an anodizing process reinforcing the already bombproof apparatus with another 30-percent strength. It's serious strength in a streamline package.
Canted Gas Pedals - Ideal for riders who want a wide stance and extra leverage for ollie power. Canting also allows the ankle and knee joints to be aligned, alleviating pain.
Universal 4x2 Channel Compatible Minidisk - Designed to create a minimal contact footprint for even board flex.
Compatible with any traditional 4-hole or 3-hole snowboard mounting inserts, along with Burton snowboards featuring The Channel. You can mount Union Bindings on any board you choose.
Not compatible with 4x4 or with boards featuring powder pack setback insets.
Grade 8.8 Hardware - The strongest steel available on the market - the use of Grade 8.8 represents Union's commitment of delivering the strongest and most reliable bindings on the market today. Top to bottom.
The most commonly used hardware is made from "mild steel" that has a property class of only 4.6. Considering how much stress a binding is put under, Union uses only the strongest steel (featuring a property class of 8.8) on all hardware.